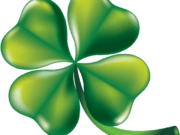 St. Patrick's Day originally began to celebrate the patron saint of Ireland but
has evolved into a celebration of all things Irish!
Irish immigrants in larger American cities began the traditions of parades and large celebrations quite a long time ago. Boston's first St. Patrick's Day parade was in 1737, and Chicago has been dyeing their river green since 1962!
Saint Patrick's Day Traditions

Some other long-held traditions include wearing green for the day to keep from being pinched by leprechauns, as supposedly being green makes you invisible to them. (Why they are pinching you, I'm not sure, but it sounds like a possible sexual harassment lawsuit to me.) Shamrocks are worn as a symbol of the rebirth of spring, and also Irish pride. Irish music has a long history of storytelling and you will hear a lot of it during parades and parties. Special menus like corned beef and cabbage and soda bread will rule the menu boards for a day, and they are delicious so don't miss out.

But of course, as Wisconsinites, we celebrate it mostly as an excuse to go out and drink a lot. Green beer and Irish whiskey are common drinks at the pub crawl that are regularly held everywhere. While these events are certainly great fun – please remember the statistics for St. Patrick's Day drunk driving:
St. Patrick's Day is one of the deadliest times on our country's roads. During the  2015-2019 St. Patrick's Day period (6 pm March 16 – 6 am March 18th), 280 people died in drunk driving crashes. 
In 2019 alone, 57 people were killed in the same time period and three out of five crash fatalities involved a drunk driver.
While walking is a better option than driving, you are still putting yourself in danger. In 2019, 31 pedestrians with a high blood alcohol content were killed walking home.
Make plans to be safe BEFORE you celebrate Saint Patricks day:
Do not drink and drive: It sounds obvious to advise against drinking and driving, but some people think drinking one or two beers and waiting a couple of hours will "sober them up." However, a breath and blood test may show otherwise. Know that even if you consume a little bit of alcohol and feel sober after a night out, you will risk getting an OWI charge if you get behind the wheel afterward.
Always designate a driver if going out: A designated driver, commonly called a "DD," is a great way to celebrate St. Paddy's Day safely. A DD stays sober throughout the night, so they are safe to drive their friends or family members home afterward. As such, ensure your DD is someone you can trust to be sober all night long. The last thing you want is to get in the car with an intoxicated person.
Call an Uber or Lyft: If designated drivers aren't an option, you should consider using rideshare companies like Uber or Lyft to transport you to your destination and back home safely. Taking a rideshare to your destination makes it so your car is not with you!
Do not mix alcohol with medications: Prescription meds often include warnings against using drugs and alcohol while using the medication. Mixing these substances can create a bad reaction. Often results include impaired judgment, poor coordination, mood swings, drowsiness, dizziness, and more. These reactions can occur no matter how little alcohol was consumed. So avoid drinking entirely while using your prescription medications.
Buckle up: Safety comes first, so wear a seat belt at all times while in the vehicle. Whether you are getting a ride home from a wild night out or driving yourself home, wear your safety belt to best protect yourself from getting injured or killed in a car crash.
Even after all of our advice, if you make the decision to get behind the wheel and are cited for OWI, contact Cafferty & Scheidegger, S.C. The experience and knowledge of our team lead us to be able to defend each of our clients' Wisconsin drunk driving charges. We will aggressively fight your charges to reach the best possible outcome.